Apprenticeships offer a unique learning opportunity to work directly with experts and combine on-the-job training and mentoring with academic study. We are particularly proud of the breadth of programmes we have on offer at RSA.  At present, 13 of our business areas have academies that run a total of 55 apprenticeship programmes. From the earliest of career starters to seasoned professionals upskilling or adapting to a new role, helping people develop
#SkillsForLife
is built into our DNA. With 293 colleagues currently studying on an apprenticeship (academic programmes from entry- to Masters-level), we took this opportunity to speak to some of our current cohort.
Amelia Buxton - Customer and Operational Risk Apprentice
"I chose the apprenticeship route as I was keen to experience the working world first hand but still wanted to study, gain qualifications, and keep academically developing. An apprenticeship was the perfect opportunity for this as it offers that balance of work and study. I'm on the Risk and Compliance apprenticeship at RSA. I'm rotating around the three teams within Customer and Operational Risk Team (CORM). Getting to work with a wide range of inspiring people at RSA is one of the best parts of the apprenticeship. Not only my CORM rotation but also the Bright Futures Mentoring Scheme has broadened my connections to Counter-Fraud Technology. This has allowed me to meet and shadow some brilliant people and gain knowledge about a different part of the organisation.


I was pleasantly surprised by the amount of time given for what is referred to as 'off-the-job learning'. This is allocated time for education, training and studying. It's not to be squeezed into or around working hours or to be completed in your own time.
Before I started an apprenticeship, my assumption was that you would be treated like a junior or an assistant. I've found the exact opposite of this at RSA. Everyone I've worked with has treated me as an equal and given me autonomy to develop in my own role. RSA has an amazing support network, made up of a wide range of individuals. I never feel alone and always know there are many people I could contact if I need support. My main goals for this year are to build a strong network in the organisation, discipline myself to work hard to meet deadlines and high expectations and learn as much as I can about the Insurance industry."
Saqib Ali - Claims Graduate and Senior Insurance Professional Apprentice
"I'm on the Senior Insurance Professional apprenticeship. Being able to continuously improve and develop really motivates me, so going down the apprenticeship route felt like a natural choice. Alongside expanding my knowledge of claims and customer and stakeholder services, I'm excited by the qualifications offered as part of the role, such as the Advanced Diploma in Insurance offered by the Chartered Insurance Institute.
Although RSA has a rich history and heritage, I hadn't expected the company to be so open to change and geared to help people grow in role. Employee training and development is not only present in my role it is encouraged organisation-wide. I think this creates an overall positive atmosphere and good morale in the workplace. It was surprising to see the range of opportunities and help available once you get on to the programme as well, the ability to take on more responsibilities is open.
Working towards deadlines and exams while managing caseloads of work can be demanding at the best of times and I find it essential to plan. Managing time effectively and prioritising is an example of just one of the many passive skills you learn and appreciate when undertaking an apprenticeship.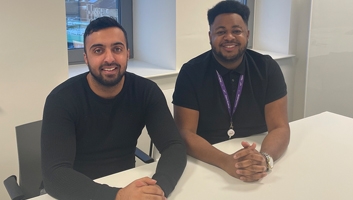 On a personal note, my end goal is to one day take a senior leadership role within RSA, having worked my way up and to show my community that such a feat can be achieved within such a well-known and large company regardless of your ethnic background or the circumstances you were born into."
Since 2017, we've invested around £7 million through the apprenticeship levy into training and have celebrated the graduation of two cohorts in 2020 and 2021. Last year, we were ranked 41st in the  Rate my Apprenticeship's  top-100 Apprenticeship employers. We've been an honoured member of the 5% club since 2020, ensuring at least 5% of our workforce is made up of apprentices, sponsored students, and new graduates over the next five years.
It's been gratifying to see the positive impact of apprenticeships on our business and strategic priorities. Pam Corbridge, who manages an apprentice in the Customer and Operational Risk Team function, spoke to this:
Pam Corbridge - Triage and Root Cause Analysis Lead, Customer and Operational Risk Team
"Having an apprentice is a great opportunity for existing colleagues to not only share their knowledge but also to develop personally through being a mentor or coach. Apprentices are highly motivated, bring great energy and fresh perspectives and are a great way to invest in talent that will help lead your business to success in the future.
We've taken a rotation approach, with our apprentices spending time with each of our key functions, which ultimately supports our ambition to invest in cross-skilled resource to enable a more flexible response to fluctuating demands. The benefit to our apprentices is having the opportunity to better understand the responsibilities within each function and how our teams connect with each other, and also gives them the chance to assess which area of the business best aligns to their strengths and career aspirations.
It's very mutually beneficial; apprentices gain 'hands on' training and experience, while also being an active member of the team in supporting the delivery of team goals."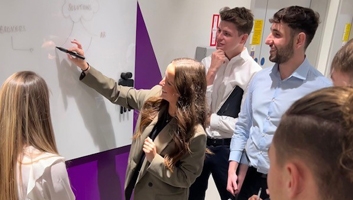 This year, the Government is calling on employers to get involved in #NAW23 by encouraging everyone to consider how apprenticeships can help to provide #SkillsForLife.
Gemma Woodhead, Property Supply Chain Lead in Claims, and SR Supply Chain Consultants 'Apprentice of the year' winner in 2020, spoke of the #Skillsforlife her apprenticeship gave her:
"Completing my apprenticeship meant I was able to experience a wider view of procurement and supply chain, including public procurement, construction procurement and commodity procurement. It's allowed me to be more confident, to challenge the way we go about things and to make things more effective. It's also contributed to a change in role, seeing me step up within the business."
We heartily encourage all those considering learning while they to earn to find out more about our comprehensive range of career opportunities at our Bright Futures page.
Maria Bird
PR Exec: Employer of Choice and Content