Throughout our 300 plus year history, we're proud to have honoured the service and sacrifice of RSA colleagues in military conflict. Historically, the first thing to greet you at the entrance of many of our offices was a stone memorial listing the names of those who gave their lives in the First and Second World Wars.
These memorials were eventually donated to the National Memorial Arboretum. However, in 2014, the memorials were placed in secure storage by the Arboretum when the Remembrance Centre was constructed, and a project to create a permanent home for them commenced in 2019.
We're proud to announce the opening of the RSA Memorial at the National Memorial Arboretum in Staffordshire to honour our fallen colleagues alongside so many others.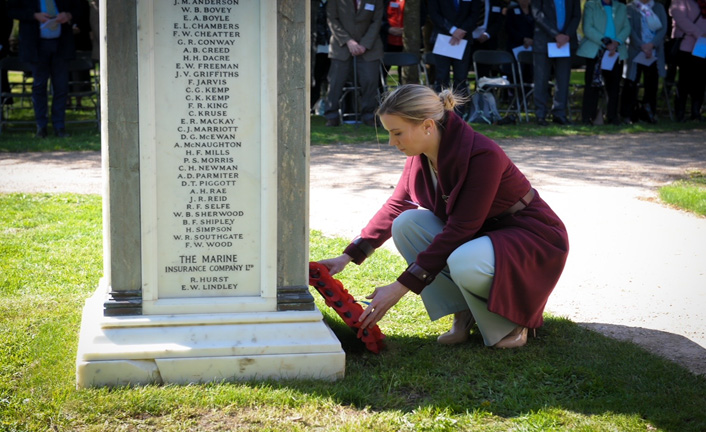 Thanks to the tenacity of Tracey Fisher, newly appointed Archive and Historic Records Director, we've been able to collect and save 27 heritage carvings commemorating nearly 1,000 lives.
Stone Mason, Nick Johnson and contractor Jamie Tweedle, surpassed themselves restoring and reworking the carvings into the current display.
We were delighted to welcome so many illustrious guests to Thursday's unveiling, including representatives from RSA Pensioners, the Royal British Legion, the Armed Forces Covenant, the National Memorial Arboretum and the RSA Armed Forces ERG.
As part of the Royal British Legion, the Arboretum is free to visit and set in 150 acres of rolling grounds on the edge of the National Forest in Staffordshire. The National Memorial Arboretum exists to ensure that the unique contribution of those who have served and sacrificed is never forgotten.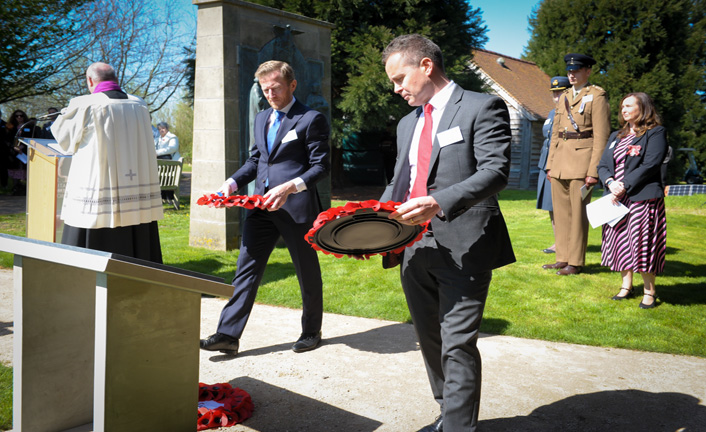 The baton of Remembrance is passed on through the generations and there is a year-round space to celebrate lives lived and remember those we have lost. Ken Norgrove, CEO of RSA attended the unveiling ceremony on a sunny afternoon in Staffordshire and offered his reflections:
Today's rededication service has been a time for remembrance and reflection and has brought about feelings of deep respect and appreciation. I could not be prouder of the contribution made by former RSA colleagues across the two world wars – at home and abroad – and the role they played in helping to protect democracy in Europe. Today, we're recognising those who paid the ultimate sacrifice with this service and the unveiling of this new memorial, and I'm grateful to the National Memorial Arboretum, RSA pensioner Graham Briscoe and especially Tracey Fisher MBE for their hard work in helping to create this important and moving place for anyone to visit.
Ken Norgrove -
Chief Executive Officer
Tracey Fisher has been the driving force for this project, enlisting help along the way from volunteers in and outside RSA who've provided invaluable help.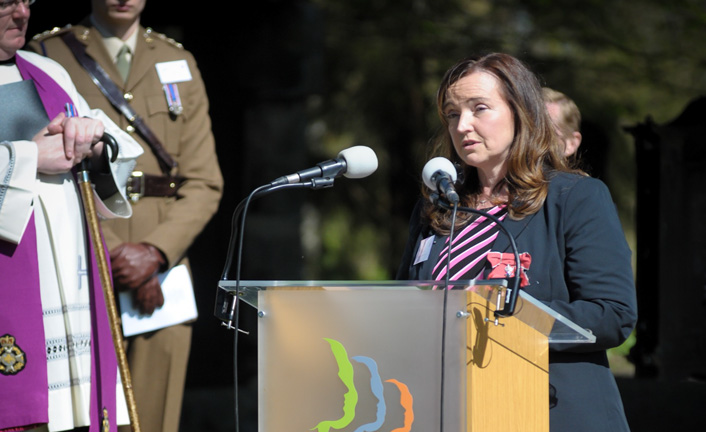 You can learn more about the memorials where Tracey and a small group of RSA volunteers took on the further mantle of researching the individual stories of the RSA Heroes, unveiling some truly incredible stories of bravery and loss.
Finally, we spoke to Tracey to find out how she feels now that the memorials have a new home...
As someone who has always had a deep respect for those who have served and gave their lives for their country, I'm honoured to have led the restoration of these important war memorials. It was a privilege to work with such a dedicated team of volunteers to ensure that we are preserving these memorials and documenting an important chapter of RSA's 300-year history. These memorials commemorate the lives of normal people, who worked within the insurance industry but saw their lives catastrophically changed by the impact of war. Their sacrifices must never be forgotten and now by having the memorials back on display, they will be commemorated within this unique place of remembrance.
Tracey Fisher -
Archive and Historic Records Director