In celebration of Pride month and all of our wonderful LGBTQ+ colleagues and allies we are delighted to share this podcast: Navigating 'Coming Out' as a parent.
Our colleagues Gail Hardy, Katherine (Kat) Litchfield and Paula Keeley share their experiences supporting their children through their 'Coming Out' process. Gail's son Evan came out to her as trans, Kat's daughter Olivia came out as bi-sexual and Paula's son Sean came out to her as gay. Maria Bird, PR Executive joins the conversation to share her perspective from when she came out to her parents as a lesbian.
It's a moving and memorable listen, as each participant opens up on how the process went for them, what coming out means in their view and importantly advice for any parent in a similar situation. Their advice extends beyond the LGBTQ+ community and has value for any parent or child that needs to hold an important and potentially life-changing conversation with their family. We hope you enjoy it and welcome your thoughts to add to our collective understanding (we'll share contact email information later in the article).
This podcast is brought to you from our Building Pride Employee Resource Group, who at all times champions the rights and lived experiences of the LGBTQ+ community inside and outside of RSA. Building Pride have already brought progress to RSA through many positive projects including the Transitioning Leave policy, LGBTQ+ Safe Space listening groups and of course the annual Virtual Pride March.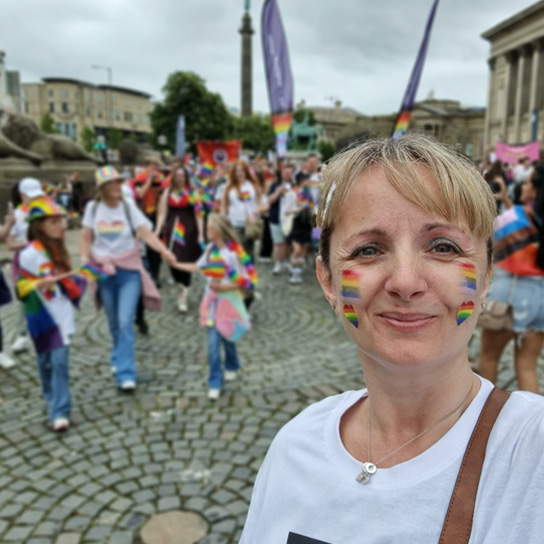 It is important to note that not everyone experiences Coming Out as positively as some of the stories described in this podcast, or even has the privilege or option to come out to their nearest and dearest. We would like to direct anyone who this has touched to explore the LGBTQ+ community support resources from charities such as Stonewall and Galop.
For anyone affected by the content of the podcast please do not hesitate to reach out to any of your queer colleagues or indeed Kat, Gail or Paula. Please contact Maria at maria.bird@gcc.rsagroup.com so she can direct your email. We're only too happy to have a chat to hear and witness your experiences and where possible provide helpful and supportive advice.
Building Pride have invited the Pink Choir to sing at our London Bishopsgate offices on Wednesday 28 June. We encourage anyone able to attend to join this special event.